You know it's really fun to splash around food photography backgrounds to make it a creative and committed hit to your passion. It brings out your signature as it's all you who is investing such effort to bring that striking balance to your compositions. And you shouldn't be surprised as to how you relate this to advertising photography – it is!
Well, you should aim for cohesion, so your commercial retouching expertise matter for this to work out as well. And if you think lack confidence in the post – you should choose the handy craft of an image editing services provider. And we're not trying to give you one of that mere stuff, we aim for backgrounds-do-play-a-serious-role kind of thing – seriously!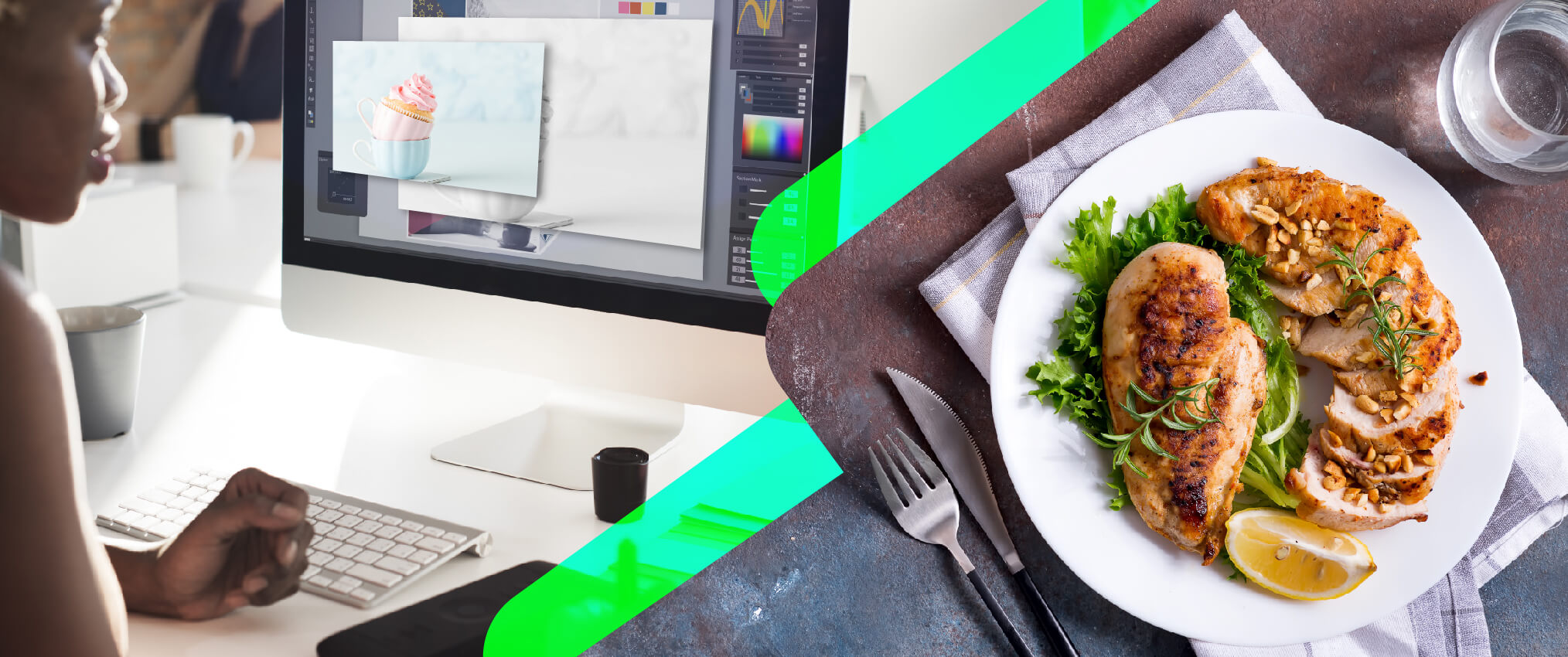 Talking about backdrops we understand you will have concerns as to how these DIY-related food photography tips will work in your favor. We got just the right things for all that to keep you all chill and mobile through the entire shoot. Plus, we don't think you aren't open to experimentation –you are, and we know you want to slay it well.
Alright, let's get to the food photography backgrounds out there that are going to make your compositions impressive.
Paint on a Canvas
Who wouldn't love a textured feel, and rustic vibe with an elegantly organic look like you might do in commercial retouching? So, grab some drop cloth fabric and primer it down well in every area as it will help the canvas to maintain the paint well without soaking it up. Sample out some paints on it. If there are different colors on it, we're pretty sure you can use it for more than one food shoot – see? That's utility! Add more textures using different objects (rags, sponges, etc.) by tap pressing on it with the colors of your choice. What's even better is that you can roll it after a shoot and get it rolling out for a new one later – like a poster.
Ceramics are Good
These tiles even porcelain ones are good food photography backgrounds and they're affordable. But go for ones without much gloss to cut down glare while shooting. Neutral colors (grey, black, and white) are the best, or even brown ones (chestnut or taupe). One of the food photography tips – these neutral/cool-toned colors will be a perfect balance for the warm tone of this genre. It will enhance the food subject to avoid warm color clashes.
Wooden and Painted
Another inexpensive stuff – thin, and light plywood sheets are the best with at least a 2×3 feet dimension to suit any food outfit. And it's not all you got to splash some craft paints on it that are water-based. Here too, choose more than three colors and dab it all over the wood backdrop with rags or sponges for a blended and subtle mottled effect. Protect it with a thin coat of matte, water-resistant sealer as we're sure you will need for many more shoots.
Craft/Construction Papers
These are rich colored backdrop options and low-cost. It's available from your local stationery/craft shops or even from online websites.
Old Baking Paper
Another textured, fashionable appeal to your advertising photography for food and especially good when shot from above. Glaze it with some butter or oil and bake on high heat until it is brown for an extra rough, textured feel. Rerun the process until you want your desired look for it.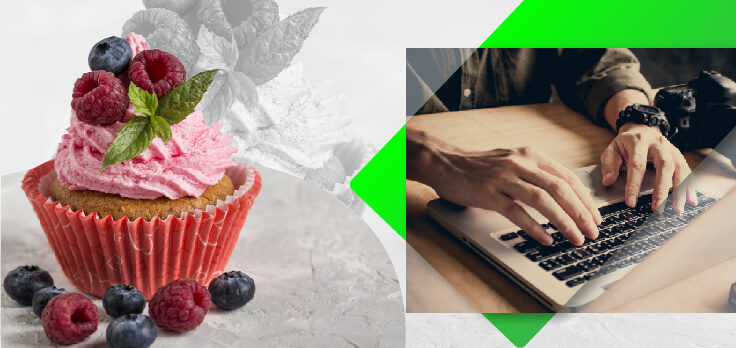 Vintage Tray
One of the food photography tips we offer for this prop is to not choose a reflective one as it's fully metal. They're great to use as your food photography backgrounds when shot from either close-up or a distance. Antique stores or second-hand dealers will have it in plenty or you can buy it from similar online sites.
Vinyl Contact Paper
It can be used as an alternative for a marble-like and cooler tone much better. The best one we'd suggest is the realistic-looking faux marble-toned one. Online sources are your best bet to purchase it. Stick it to a thin sheet of plywood or foam core so that it doesn't roll back and try to shoot it from angles that cut down its glossy glare.
Paper Grocery Bags
The texture when it's crumpled and its natural tone are great for food photography backgrounds. Lay it flat without its sides and just simply shoot. It's super cheap and easily disposable, so you don't have to worry about its one-time usage.
Burlap Fabric
With its perfect layering, it can bring a rustic and earthy feel to your compositions majorly for root vegetables or a farmhouse scene. This too can be bought from local shops in any dimension you want.
Linens
Natural fabric-like, damask tablecloths with light patterns or linen napkins are the best that we would suggest. Neutral colors, brighter ones with patterns, or it could be anything of your choice as long it's the right aesthetic you want. Choosing these linens is great and all but make sure they don't divert the audience's attention from your food subjects. Another of the food photography tips we want to share while using this material is that you can plump it up by placing another of the same underneath it to make it more pretty.
Wooden Cutting Boards
Its size is what defines whether you need it as a food photography backdrop or as a layering piece and the French cutting board is the right one to go if you can get hold of it. The ones with coarse grain wooden tones are much better and we don't think that tone is easy to achieve with post- commercial retouching. But still try, might be a bit difficult though.
Parchment Paper
This too is a cheap alternative especially a natural or white-toned one – depends on you. Bright and airy, baked, or meat-type foods go best with this background. Like the grocery bag, it looks very good when crumpled for an added texture feel. You can also try making them into little squares for foods that come in many pieces.
So try creating these food photography background tips to tone down your budget or purchase hassles. Do the right advertising photography or commercial retouching skills wherever necessary to get appetizing compositions as well. And don't forget to seek the help of an affordable image editing services provider if you're just stepping into the post or are too caught up with shoots.