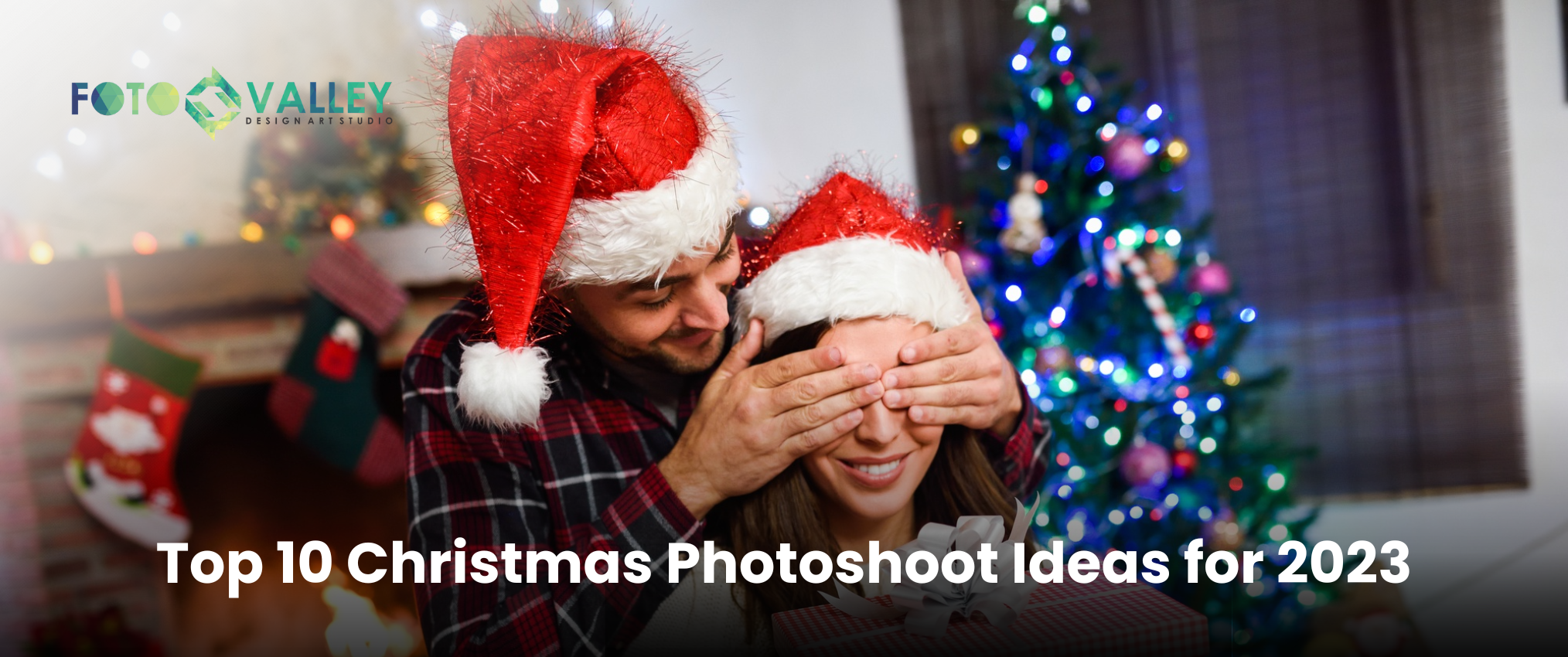 Holiday memories and photographs are proof of a well-lived life. In this blog, we are going to explore the latest Christmas photoshoot ideas for 2023 that can make an excellent memory album. Old photographs and albums are the few things that people hold dear. Here are some of the best tips if you're planning for a Christmas photoshoot session.
Trendsetting Christmas Backdrop Suggestions for 2023
Cozy Indoor session
An indoor shoot is a cool idea to capture intimate shots that can tell stories. You can take advantage of the warm and cozy ambiance where you feel at home. So, try to find the small things and make them your subject. In addition, these simple things can deliver outstanding pictures that bring a festive feel to the photographs. So, try to use some cozy indoor frames for your family Christmas picture.
People Dining Together
Simple sips of hot chocolates and tea
Kids unwrapping presents
Decorating Christmas cribs
Cakes and prayer sessions
These frames can convey emotions and candid moments associated with Christmas backdrop ideas. Thus, you can incorporate festive objects such as Santa Claus, fabrics, lighting, blankets, carpets, etc.
Food photography
Christmas is the time of cakes, treats, and feasts. Food vloggers are in the center of the spotlight, and Christmas is the ideal time to experiment with festive food items. Photographing festive food is an exciting angle of photography where you can make cravings and create a visual feast for the eyes. Basically, Christmas vacation is the time of gatherings. In addition, you can use indoor and outdoor genres with exciting subjects, such as
food tables
food ingredients
cooking scenes
food streets
chocolate
Gear up with your accessories and roam into the nearest food streets to capture real essence. So, try to capture moments of joy with loved ones by adding vibrant colors into the frame to create a connection with the audience.
Twinkling Lights
Capturing lights is simply one of the best ideas you can easily consider to welcome Santa Claus. Twinkling lights create a joyous atmosphere that evokes the true spirit of Christmas. Furthermore, a frame of hanging string lights adds a warm and cozy glow to photoshoot sessions. Try to capture small lights and shiny objects in the frame. This helps to add a warm and cozy glow to your pictures. Whether it be indoors or outdoors, add twinkling lights that help your photograph to bring out a dreamy feel to your photograph! You can make use of exposure times to capture mesmerizing light trails that convey a sense of joy and celebration.
Outdoor photo sessions
Outdoor winter shoots are entertaining and lively sessions that you should be on your bucket list in your Christmas photoshoot ideas. The outdoor settings would be ideal for snow, frosty trees, igloos, and other elements that feel like you're in a wonderland. Thus, try to use the maximum advantage of natural lighting that creates a cool and magical atmosphere behind the subject. So, try to add outdoor activities and objects associated with Christmas, such as
Igloo building
Hill sledging
Snowball fights
Ice sports
Capturing this kind of activity shots combined with festive elements such as outfits or hats allows us to capture the joy of outdoor activities.
Night photography

Night photography and portraits provide an excellent opportunity to capture magical frames. Cities and towns will be decorated during the time of Christmas, and you can make vibrant shots of streets, people, and buildings. In addition, you can try different apertures and wide angles to feature fireworks, snowflakes, events, parties, and events.
Find and visit places where you can shoot a burst of colors, light trails, and other exciting subjects rather than simple dark frames. You can find areas with minimal pollutants where skies are clearer, and stars are clearly visible. This kind of frame can be used as a background to add a sense of mystery and wonder to your photos.
Minimalist Decor
It's important that you don't miss out on macro frames and zoom-ins to take visually stunning and captivating images. Close-up shots of ornaments, decorations, candles, or fabrics can create stunning visuals. Macro photography can capture intricate beauty that can evoke emotions and the essence of the holiday season. In addition, minimalistic photoshoot sessions emphasize simplicity by capturing close-in clicks of holiday-themed fabrics and other elements. So, make use of smooth and shiny surfaces that can evoke emotions or make people think. Try to lock on single colors to create a sense of balance, or you can try a monochrome palette on different subjects.
Pet portraits

We all adore pets, and it's fun to dress them in cute Christmas outfits. Pet photography is a cool idea where you can dress them in red and white hats or shirts that help bring a touch of vacation vibes flying around. You can try both indoor and outdoor pet portraits as long as they are Christmas-themed toys in the frame. Furthermore, you can either place them on a cozy sofa with the toys or play with them outside. Encourage them by giving wrapping covers or presents to make them remain playful and active. So, you can click candid portray where they look excited and charming. In addition, you can use Christmas-themed treats and toys to make the shoot more festive.
Personalized photoshoots
Personalized Christmas shoots mean capturing private moments that reflect your own personal style. You can look for frames that define you. For example, if you're an athlete, you can do personalized shoots by adding festive elements to your craft to showcase your creativity.
You can capture your own works by adding warm, festive elements into the frame. Furthermore, people who make handmade crafts such as ornaments, stockings, or festival cards can do photoshoot sessions to advertise seasonal benefits. Furthermore, you can do photoshoot sessions on unique family traditions such as heirloom ornaments, gifts, or festive attire. So, shoot at locations that have a special meaning to you or your family.
Conclusion
With these cool photoshoot ideas, you can easily come up with exciting sessions that can document heartwarming moments with your loved ones. Every point and suggestion will help you find the best angles and frames to get your best Christmas photo. From Macro photoshoots to wide outdoor shoots, now you know how to add vibrant Christmas feels to your shots. So, grab your camera and practice some cool shots to make your Christmas memorable.
At Fotovalley, we make sure that even the smallest details of an image are perfected to your satisfaction. We have a wide range of photo retouching services where our collaborative efforts and skillsets can deliver stunning visuals that leave a mark on viewers. Reach us via mail at [email protected] for more queries.