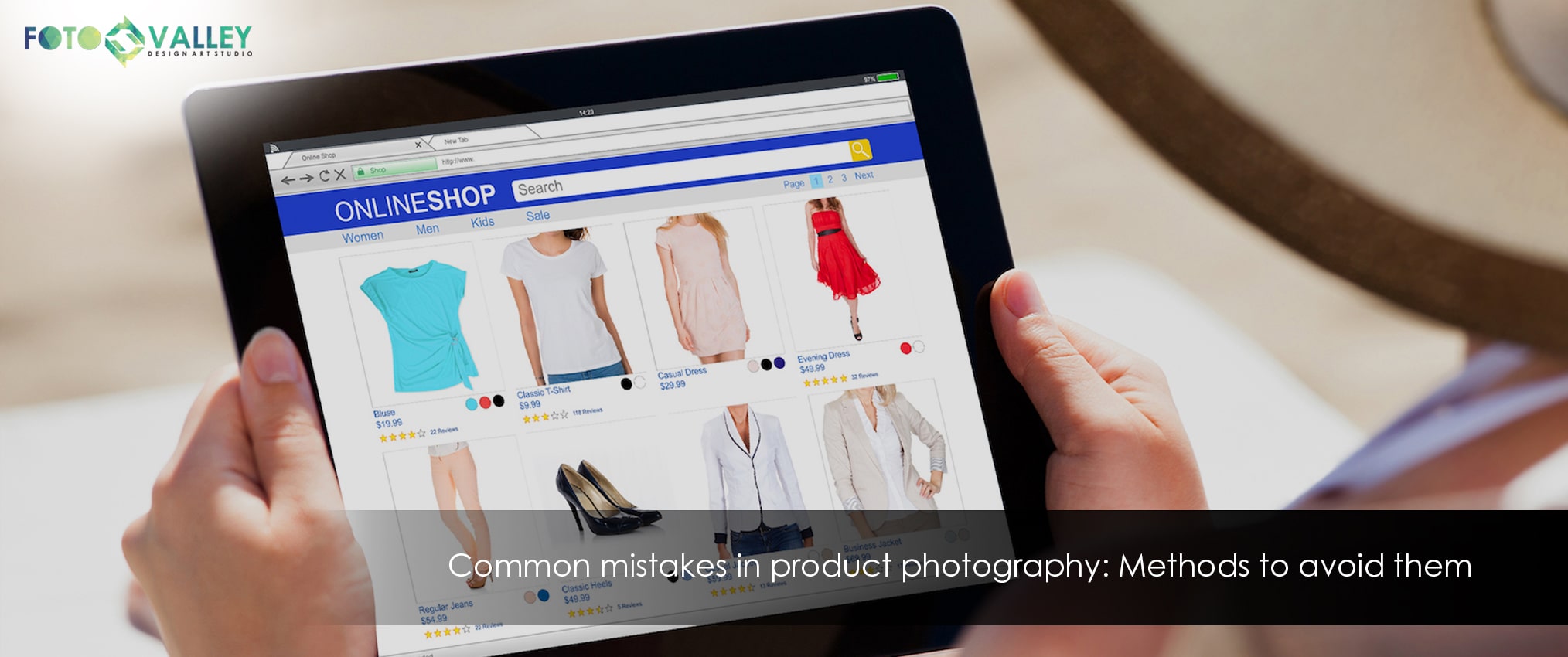 The overall impression of your brand hinges on the quality of your product shots. Clear, polished images not only help create a cohesive brand image but also reduce the likelihood of returns.Research shows that 22% of returns are due to differences in the appearance of the product displayed online and the actual product received. As any entrepreneur knows, a returned item comes with added expenses and risks damaging your online reputation.
As photography enthusiasts, the team at FotoValley understands the importance of product photography and has observed common mistakes made by e-commerce businesses. Even seemingly small mistakes can turn customers away and lead to missed opportunities.
We admire those who create and grow their brands, and we want to help them succeed. If  you're a DIY marketer on a budget or outsourcing to professionals, this blog offers valuable insights to help you understand the common mistakes in product photography and methods to avoid them.
What are the errors in product photography? How can we avoid them?
Proper lighting is an essential aspect of capturing quality product photographs, whether indoors or outdoors. The light source and timing are crucial factors that can impact the lighting of the image. Inadequate lighting can make the image appear dull and can complicate the post-processing procedure. The lighting requirements may vary depending on the size and nature of the product, and various techniques can be used to manage artificial lighting.
Additionally, most cameras come with built-in lighting and ISO settings that can be adjusted to optimise the lighting conditions. When shooting with natural light, it is important to consider factors such as angle, shade, color, and object placement to ensure optimal lighting.
Incorrect Background Color
Precise selection of backgrounds and colors is crucial to depict the desired appearance and ambience of an image. The backgrounds can influence the overall mood of the photo. It is imperative to maintain a harmonious composition, avoiding overwhelming background elements such as hues, lighting, exposure, etc.
A team of expert photo retouching services will enhance photographs in a sophisticated manner that appeals to customers and conforms to market trends. Additionally, utilising product photo retouching services can yield remarkable results.
Auto-focusing, lines, and squares have the potential to misinterpret the subject or essence of the product or object, despite excellent background and lighting. Achieving accurate and precise focus is crucial for highlighting the product rather than the surroundings. Any slight errors can compromise the visual appeal and authenticity of the item, leading to boredom and distraction among viewers and customers.
It is essential to ensure that lighting and contrast are optimal and harmoniously blend with the object and image. Adhering to this tip can also reduce the workload and time of e-commerce photo editing services during pre-processing and presentation.
Ignoring the Retouching Stage
In product photography, post-processing or editing all your photos is a crucial step that cannot be skipped. Your customers will closely scrutinize your images, just as they would inspect an item in a physical store before making a purchase. Therefore, it's imperative to ensure that your photos are flawless.
Even if you have taken an excellent initial photo, it still needs to be retouched using editing software like Photoshop. This allows you to remove minor blemishes and correct any little irritations that were missed during the photoshoot. You can also adjust the colors and perfect the white backgrounds, within limits.
While some may skip this stage due to its time-consuming nature and the learning curve involved in mastering the editing software, outsourcing this step is often the best solution. Even professional photographers sometimes outsource their editing, albeit discreetly.
If you're on a tight budget and in need of photo retouching services, we offer affordable editing services that cater not just for individual images but bulk-shoots as well.
Blurred images are a common issue that can result from either camera shake or focusing errors.
When taking product photos, it is crucial to use a tripod to avoid camera shake. Even when using a tripod, you should also use the shutter delay (timer) to prevent any movement from affecting the image quality.
Camera focus is another reason for blurry images. It is essential to take the time to focus correctly when setting up the shot, as this cannot be corrected during post-processing. Sometimes, with close-up shots of items like jewellery, it may be impossible to achieve perfect focus for the entire image. In such cases, it is best to focus on the most crucial element of the shot and take additional photos to show other aspects of the product.
Wrapping Up
Excellent product photography yields the highest Return on Investment (ROI) which is an essential cost that no business can forego. Our customers reaffirm this fact on a daily basis. Our hope is that our specialist advice will help you understand not only the errors themselves but also the associated costs. In the end, professionally executed product photography has the potential to make even the smallest business appear large and formidable.
If you're searching for a reliable and top-quality product photo retouching service provider, we're available to assist you. Email us at [email protected] for more information.