Yeah, it's a bit of a strain to have come up with ideas for a creative studio photoshoot and good fashion photography retouching skills, without which you can't craft an exceptional portfolio. And being disheartened isn't going to help, but to engage the shoot with quirky ideas or concepts is key.
And don't rush with your equipment, light up and shoot right away! How about we help you explore the scenario with the right ideas for the shoot? Analyze the studio conditions, make use of your surroundings, and of course, bring in your creativity. You'll have a spectacular shoot! And banging professional photography editing or high end retouching skills will put the cherry on top!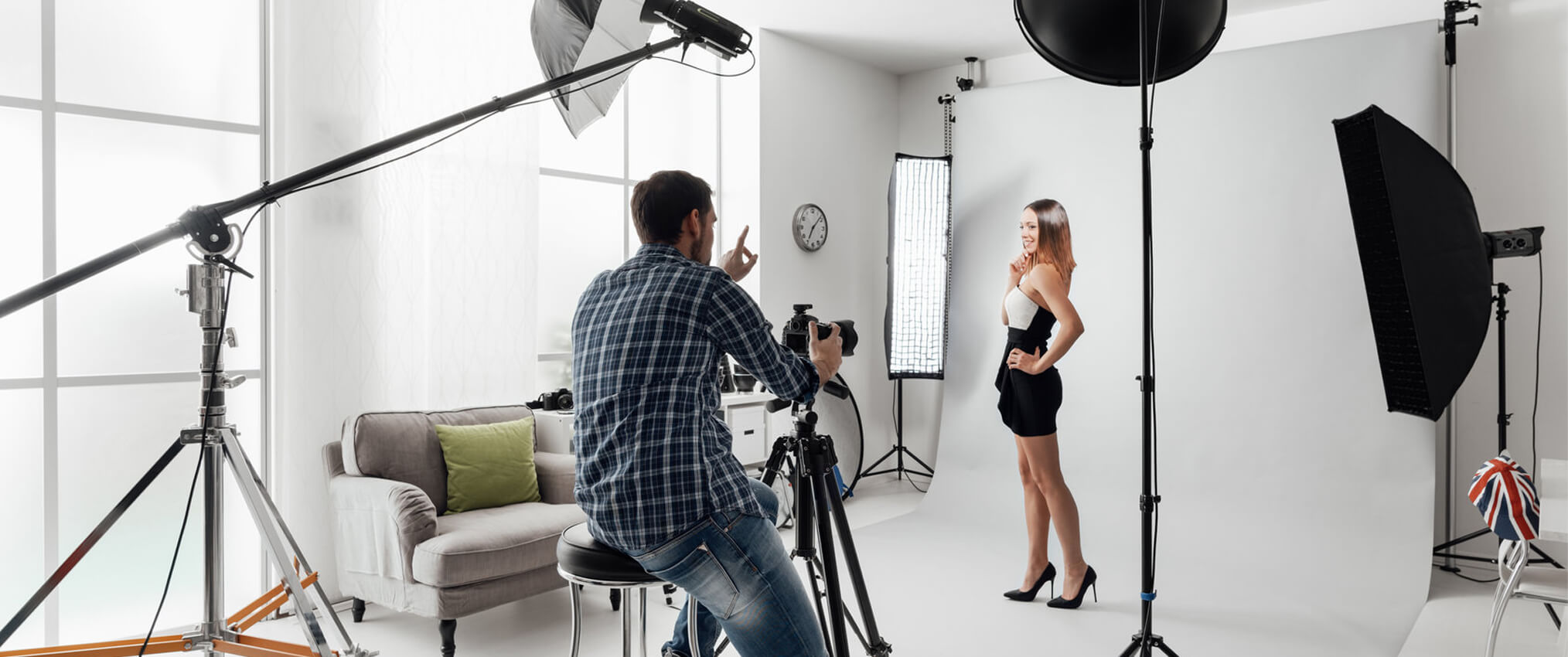 Or if you want better post-production expertise, you could outsource your photos to capable, reputed, and cost-effective image editing services.
So, shall we dig into those finer studio photoshoot ideas? Alright, let's hit it!
The Subject and the Background
A creative studio photoshoot is all about the subject and the background, and if it has a portrait focus, it comes down to the subject, alone. Reel in all the details of your subject while shooting, like, personality, postures, body and face features, etc. What you got to do is take hold of the beauty of the studio, and figure out what you can do with it, with your subject. The result? You'll have a powerful creative when it's shot perfectly and done with exceptional fashion photography retouching skills.
Have a ball with the Natural Lighting
And this is nothing to kid about while shooting in a studio. Find that sleight of hand to cash in on the natural light – and voila – you got the best! Blending some artificial light with a creative touch is points too. Although, we advise a bit of care if you're trying to achieve that visionary shot through light manipulation. If you can execute it perfectly – thumbs up! Although we would want you to take up the challenge of using the natural light that will churn out some amazing photos and learning curve along with professional photography editing.
Now, about the Artificial Lights…
Capture your subject in the dark with some dim studio lighting – now that's A1. Also, keep in check that your photos don't have any lighting burn or are too bright, as it's common while using artificial lights. The thing about this kind of shot is that your subject will stay in prime focus while cutting out the background. And the right high end retouching techniques will give a better perk to the photos.
Try Bokeh Lights as well
Dramatic bokeh lights are excellent for your creative studio photoshoot, as it can highlight the background making it look, well, of course dramatic – smooth and shiny. And throw in some fashion photography retouching tacks as well.
How about some Smoke Bombs?
This is a bit wild but outright stunning. Drive the smoke from the smoke bombs creatively towards your subject and you'll have some offbeat effects.
Mirrors? Reflections!
Position your subject facing a mirror, a 45-degree angle will do and shoo the reflection from over the top. And trust us, this works! Want more creativity? Twist it! It looks like capturing the subject 'facing the mirror', however, you are shooting the 'reflection'. How about that? Use this idea for conceptual shoots that holds mysterious messages.
The Windows
Configure your windows to control and let in the natural light to specifically illuminate your subject during the shoot. It can produce some Tindall effect if you get the right window angle and with a controlled opening for light passage.
So we hope you'd give a shot at these tips for an amazing conceptual studio shoot that is creative as well. For the post-production, if you lack the time to do it on your own, consider outsourcing it to professional image editing services providers! Have a blast!