Newborns are a delight to watch! But taking their photographs can be quite challenging. The photographer has to be experienced dealing with newborns, be quick and be professional arranging the photoshoot and taking the photographs. Newborn babies should not be disturbed with extra lights and long photoshoots. Once they get upset, it may spoil the day and you may find it difficult to click such images. Professional image editing services can help out newborn photography immensely. The tips and tricks used by the image editors can enhance the normal photographs giving it a pristine touch to the baby's image and the photograph as such. Here are some tips used to improve newborn photography: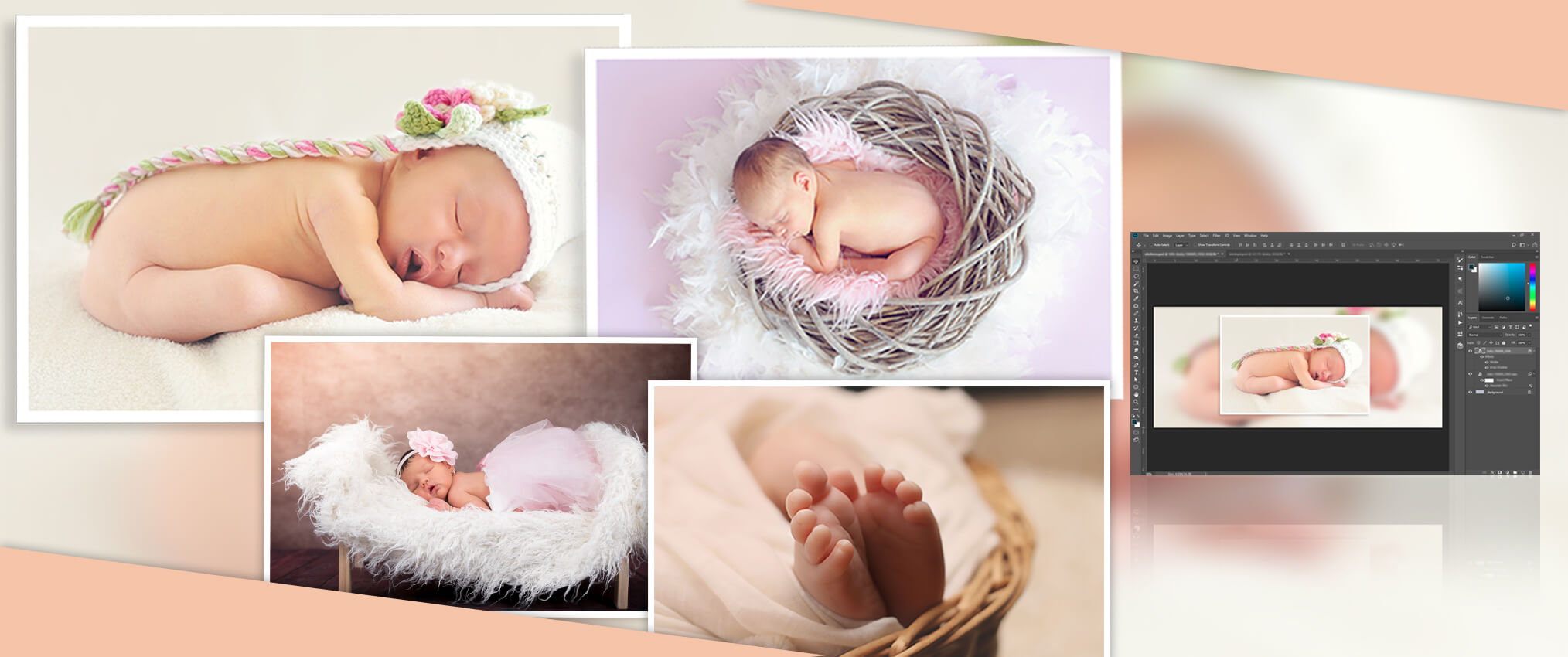 Closeups
Getting too close and personal with a newborn during photography is not recommended. They get scared and upset with the new person or people around, the camera and the lightings. But the best photographs of babies capture their closeup images, especially of their tiny feet and hands that look the cutest apart from their face! Make sure you don't get too close to scare the baby and instead use good focal length to get closeup images. These can then be touched up by professional photography editing service providers to render as the most cherished photographs. Macro-mode is the most trending photography mode for newborns.
Photoshop Airbrush
Babies come in all sizes, shapes and colors. Newborns also come with rashes and slight blemishes or scratches on the skin. Their photographs can be edited to look blemish less and pristine using photoshop airbrush tool. You can zoom in the photograph taken and touch it with the airbrush to remove the spots and uneven patches on the baby's skin.
Overexposing
Baby photos can be given a pristine finish when they are overexposed by portrait retouching services if not already done during photoshoot. The minor red marks and colors on the skin vanish and you will get a beautiful picture that's spotlessly beautiful.
Lightroom Sliders
Another option to check out is the lightroom slider option for editing the image. You can use the clarity sliders to bring up smooth skin tones. Your clients, the baby's parents, would love the finished photos for the clarity achieved!
Color Enhancement
Colors can be used to give the newborn photographs a beautiful tweak. You don't have to use too many colors for the photograph. Instead, use one or two colors in abundance and enhance it using professional photoshop services providers. Such a retouching makes the baby's image look beautiful, offering full focus on the baby. Retouch the colors to help discover a totally different look for your images. Such color enhancement offers a highlight effect on the baby's image.
Image editing requires good experience and expertise in using photoshop and other advanced image editing resources. It is best outsourced to reputed and experienced partners who will offer dedicated services to enhance your newborn baby images. The outsourcing partner will have access to the right tools and experienced resources who come handy dealing with newborn baby images.